More than 100 dental offices collected candy after Halloween for military troops serving overseas.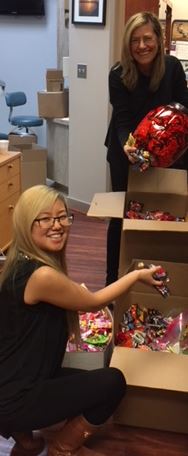 SARASOTA, FL (November 15, 2017) – Thousands of American troops and first responders serving overseas are getting a sweet surprise thanks to the generosity of the patients and team members of Dental Care Alliance-affiliated offices. More than 100 dental offices collected 13,728 pounds of candy after Halloween to ship to the troops as part of Operation Gratitude.
In addition to providing American troops with a taste of home, the candy collection serves another purpose. It helps reduce the amount of candy being consumed by children in the days after Halloween. Plus, candy donors receive a toothbrush, toothpaste, and floss. It's a win-win-win. The children are happy to help the troops, their parents are happy to have the candy out of the house, and the troops are happy to receive the care packages.
The DCA-affiliated dental offices participating in this year's candy donation program included Huntington Family Dental Group and Long Wharf Dental in Connecticut; New Castle Dental Associates in Delaware; Advanced Dental Care, Dental Associates of Florida, Dental Specialty Centers of Florida, Main Street Children's Dentistry and Orthodontics, Mautner Dentistry, Oceans Dental Group, Rockledge Dental, and Towncare Dental offices in Florida; Hickory Flat Dental, Imagix Dental, and Johns Creek Dental in Georgia; Maple Shade Dental and The Foehr Group in Illinois; The Dental Center offices and Wadas Dental Centers in Indiana; Gentle Dental of Shelby Township in Michigan; College Park Dental, Dental One Associates, and Main Street Children's Dentistry and Orthodontics in Maryland; Baystate Dental in Massachusetts; Dental Arts of South Jersey, Dental Solutions, Diamond Spring Dental, and Garden State Dental in New Jersey; Dolson Avenue Dental, The Family Dental Group, Kids Family Dental, Ramapo Dental Care, and Saw Mill Dental in New York; Dental Solutions and Gentle Dental offices in Pennsylvania; and Dental Associates of Northern Virginia, Dental One Associates, Konikoff Dental Associates, Drs. Herrmann & Desio, and Smiles at Fairfax Corner in Virginia.
This is the fifth year that Dental Care Alliance has participated in Operation Gratitude. Altogether, the DCA team has donated 27,000 pounds of candy to our troops. It's just one more way to help people smile.