SARASOTA, FLA. DECEMBER 20, 2019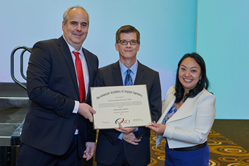 Dental Care Alliance is proud to recognize Dr. Anthony Marshall Gacita DMD as an Associate Fellow of the American Academy of Implant Dentistry. As one of 750 dentists who hold this distinguished membership, Dr. Gacita is one of the leading experts in implant care. Doctor Gacita maintains the Dental Solutions practice in Voorhees, NJ., providing oral surgery, emergency, implant and children's dental services.
To qualify for Associate Fellowship, Dr. Gacita completed a minimum of 300 hours of post-doctoral instruction in implant dentistry, performed implant cases and passed the Academy's Associate Fellow examination. This examination, which is conducted by an expert panel of implant dentists, included a written examination, a series of oral examinations and defense of three implant cases that he had completed. The examination process measured Dr. Garcia's clinical proficiency in surgical and prosthetic dental implant techniques, in-depth knowledge of dental implants, and commitment to excellence in implant dental practice and to the American Academy of Implant Dentistry's standards for ethics and patient welfare.